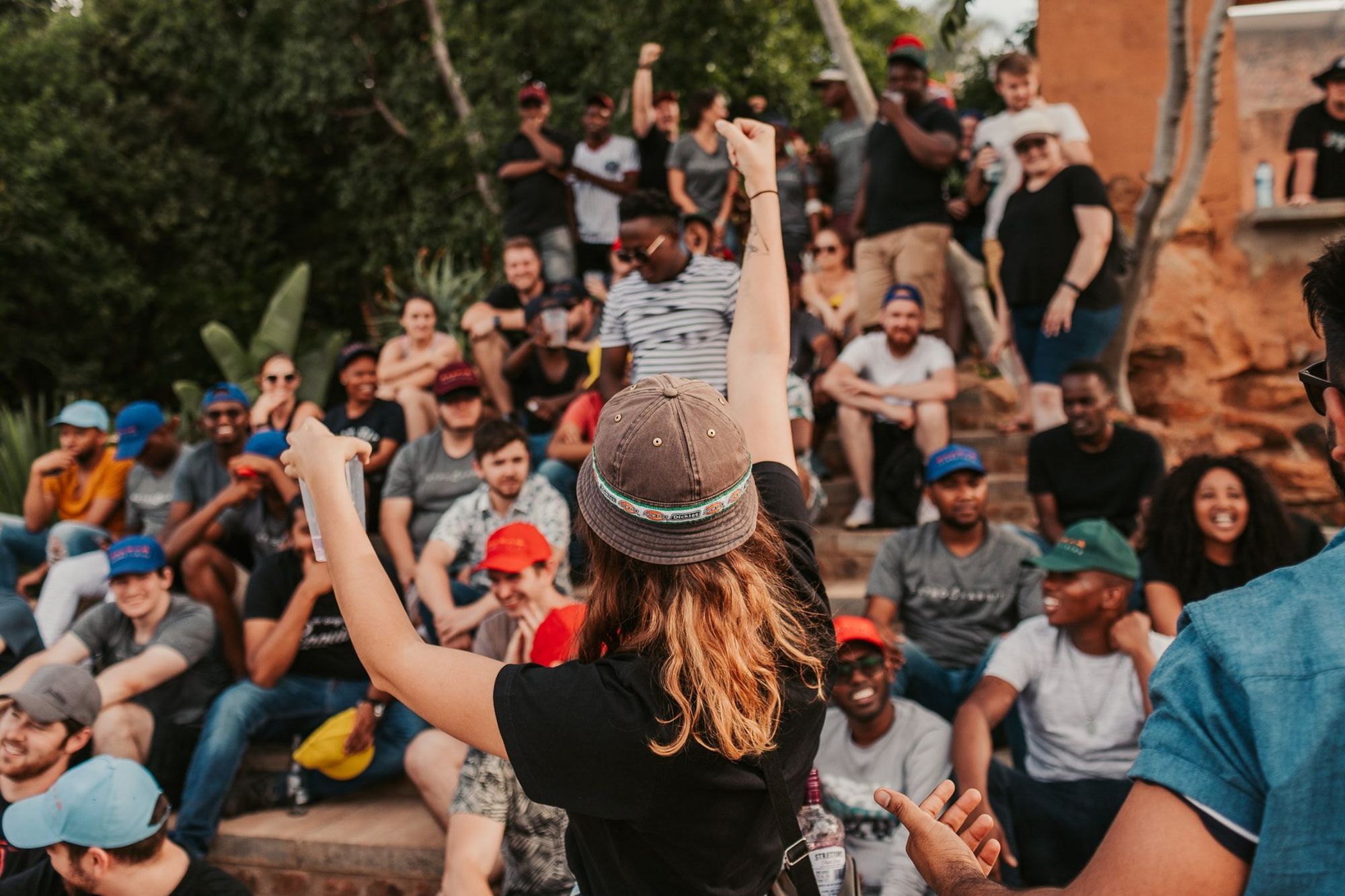 South Africa
Our New Website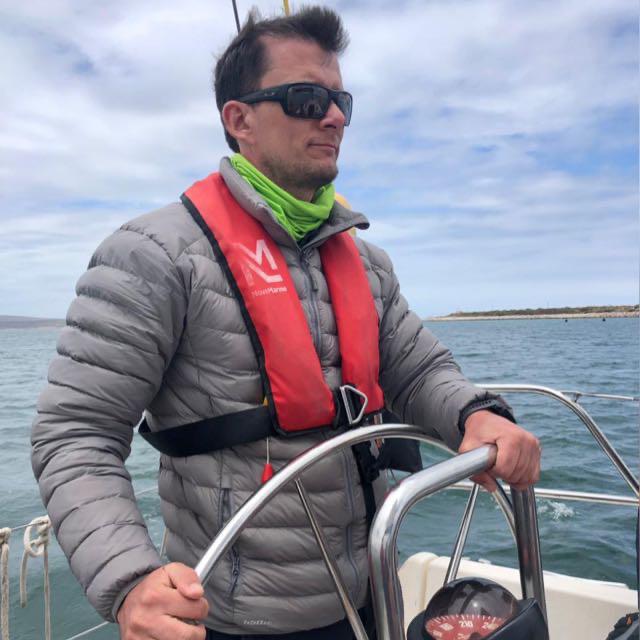 Theo Crous
June 21, 2021 - 5 min read
Retro Rabbit is a quirky character. We are a fun but professional assortment of humans, always striving to be better. As a smart brand we should constantly evaluate how we present ourselves to the world. We believe that it's time for a change.
Why have a web page anyway?
We had a long, hard look at what our website is supposed to be. It's not just good enough to have a beautiful website — while most research indicates that you will lose potential clients if you have a bad design, sadly, you won't win any new clients purely because of your gorgeous design either.
Considering that we use our website to tell people who we are and what we do, we didn't feel satisfied with what we had. As a services business, there are a few strategies for an online presence.
Strategy 1: A glorified business card
The first is to have a brochureware site that serves as little more than a business card. This was our website circa 1.0 and 2.0. Clearly, business cards should have been out of fashion since the 2000's; I mean we have LinkedIn!
Strategy 2: A closer look at us
The second approach is to use your site as a storytelling device, this is where our blog on medium shined! This allows you to give people a better insight into who you are. It also helps that you can refresh your content by just posting more blog entries - no need to rebuild an entire website just to provide up-to-date information.
Strategy 3: Sharing is caring
The third approach is to provide site visitors with something for free. And in our world, that means free advice. We have an enormous knowledge store related to topics of design, engineering, leadership, websites, mobile applications, engagement, analysis, machine learning, .... (I could literally do this all day). So the idea is that you show your skills, and provide people with advice, they may engage with your further and that could lead to a new client. Yay!
We came to the conclusion that we didn't need a static web page. Brochureware is dead. We elevated our blog to our primary online presence. Our website has been eaten alive by our blog, and we are better for it.
We intend to create a curated online experience with the purpose of growing a subscriber audience. Faithful fans of our brand. We want to attract all sorts of people to our website: friends and family, past, present and future team members, prospective clients, and that one weirdo that just can't get enough of Swift.
We want to create a source of information, wisdom, and inspiration.
Our journey
A nice side-effect of any journey is the ability to look back; to remember, with fondness, where you've been. Let's retrace some of our steps to see how we got here, and where it is that we got.
Website 2.0
An eternity ago, back when we were still trying to act like grownups, we had this template website: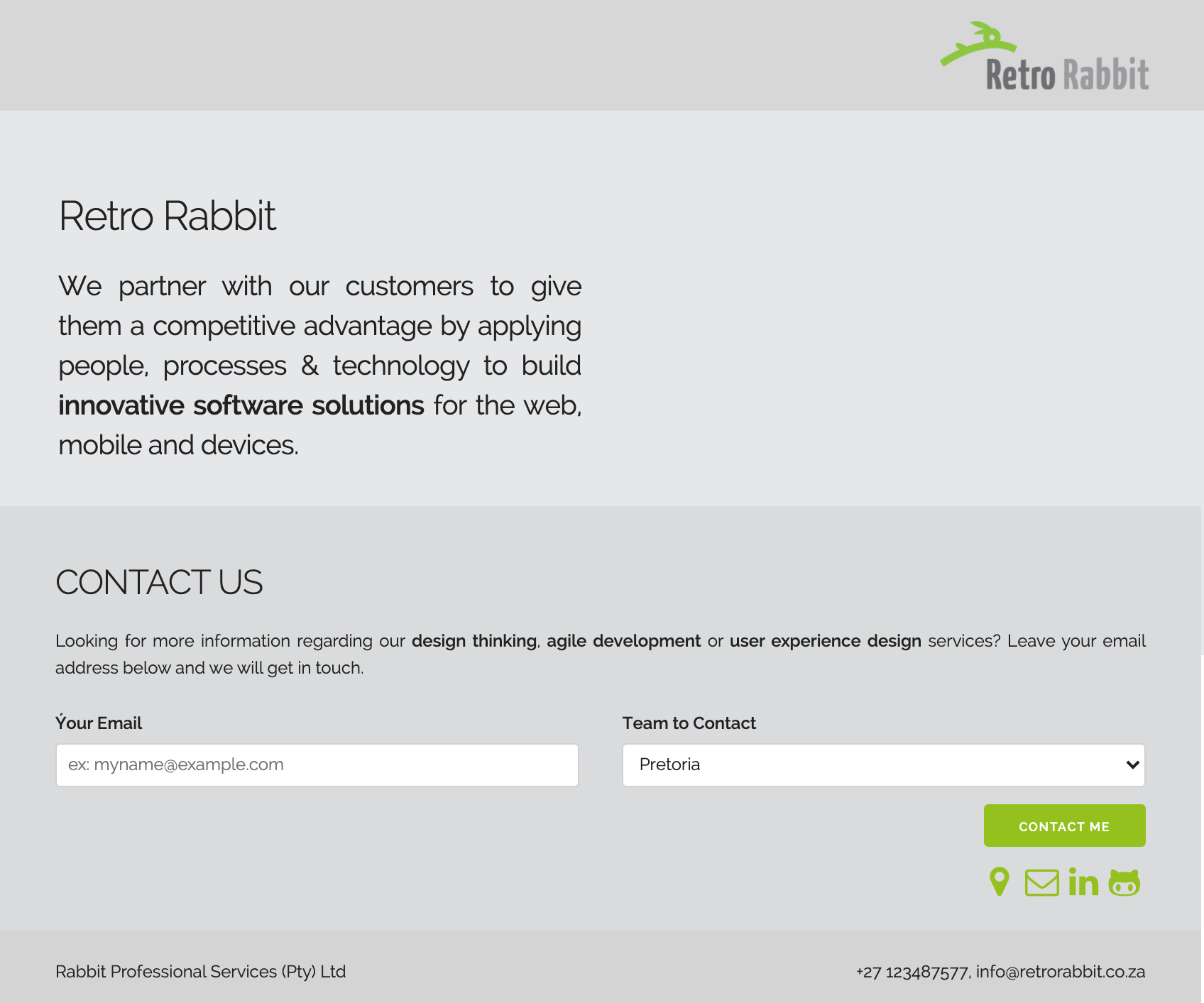 We know: stunning, right? The logo from 2.0, sported in the top-right of this screen-grab, is something we got from an outsourced logo tournament. It served its purpose, but mainly as a prototype for what was to come. The whole thing definitely lacked a certain style and swagger. Old-timers at Retro Rabbit still boast the old logo on their old jackets, but aside from that, this look has faded beyond memory, into myth.
Website 3.0
We launched version 3.0 of our website way back in June 2016. Retro was going through its teenage years and we wanted to show our cool, fun side. Mostly we wanted to get away from version 2.0.
Version 3.0 was also the world premier of Marvin, our beautiful mascot. You know, the guy in the logo - just check the top of your screen right now if you are still not sure. Marvin has since become super famous, appearing on thousands of unique lovingly crafted t-shirt designs. We love him dearly, as he was the start of Retro Rabbit's design skills.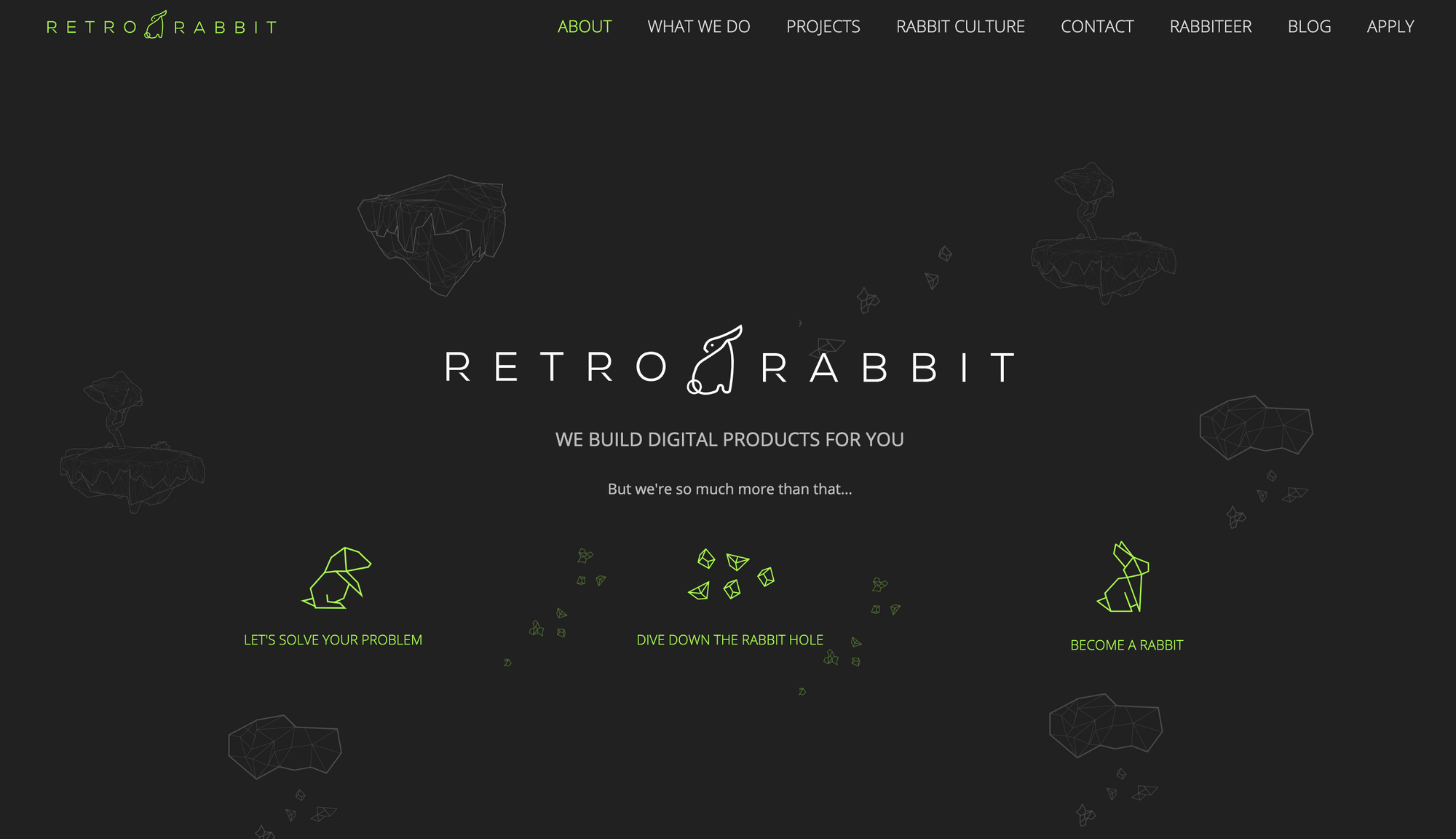 We focused on a linear graphic style and used some beautiful parallax scrolling. The illustrations were created as low poly 3d models and we then "flattened" them to create these beautiful pieces of art. They were featured at events and made it into some branded computer science labs all over South Africa.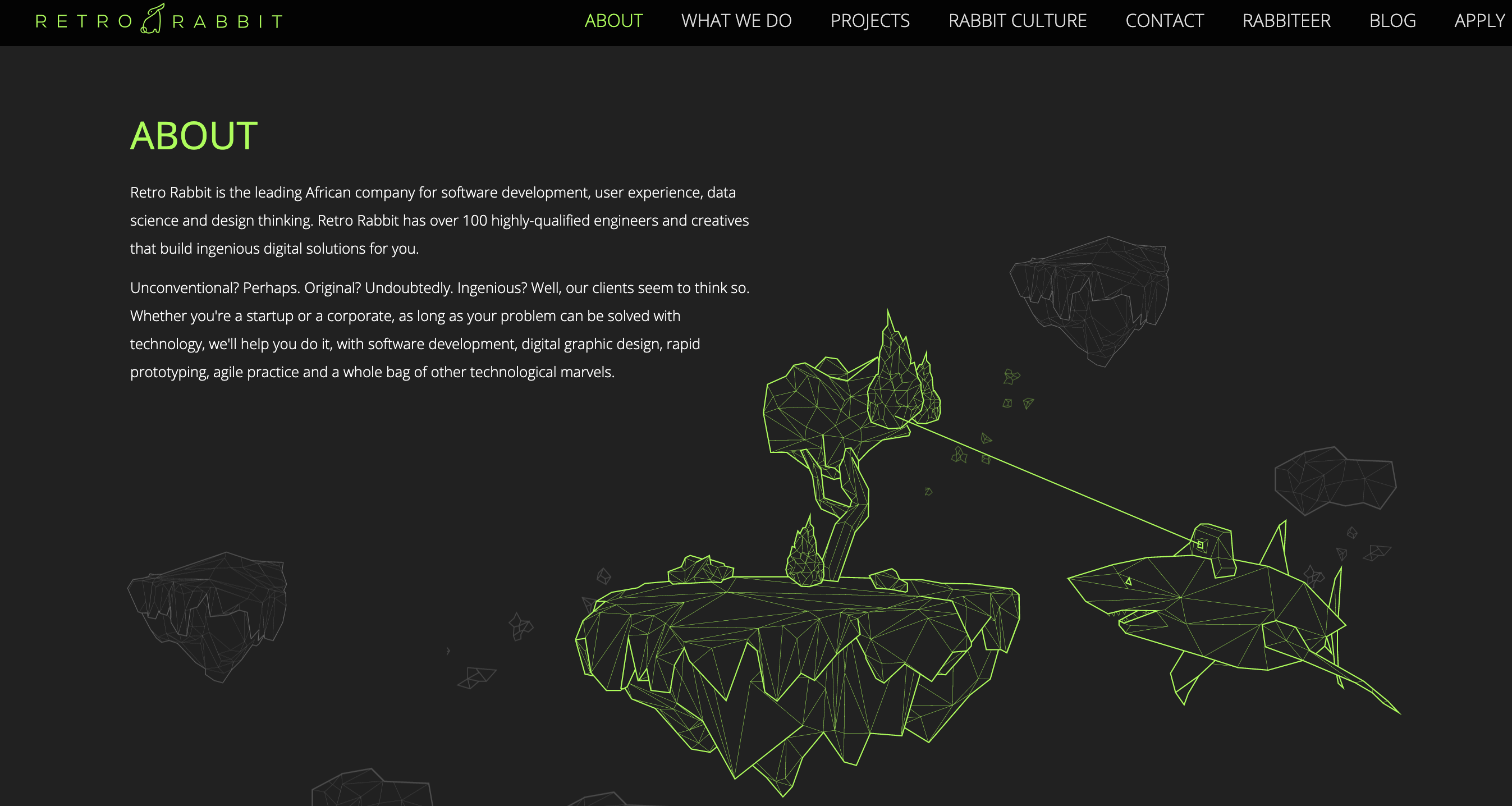 You could argue that 3.0 was the most beautiful thing we have ever created and it served us well for a really long time. But like the laser shark, Retro means to be constantly moving, constantly evolving.
Website 4.0
When we began with 4.0 we had not yet walked the path of a brochure website. We knew we wanted something new and progressive that aligned with our ideals but we did not yet know how to best implement that. You can see the initial designs we worked on below. There were several things about the design that just stuck in our thoughts. We decided to scrap it and go back to the drawing board—a hard decision after all the work that went into it, but we knew we could do better.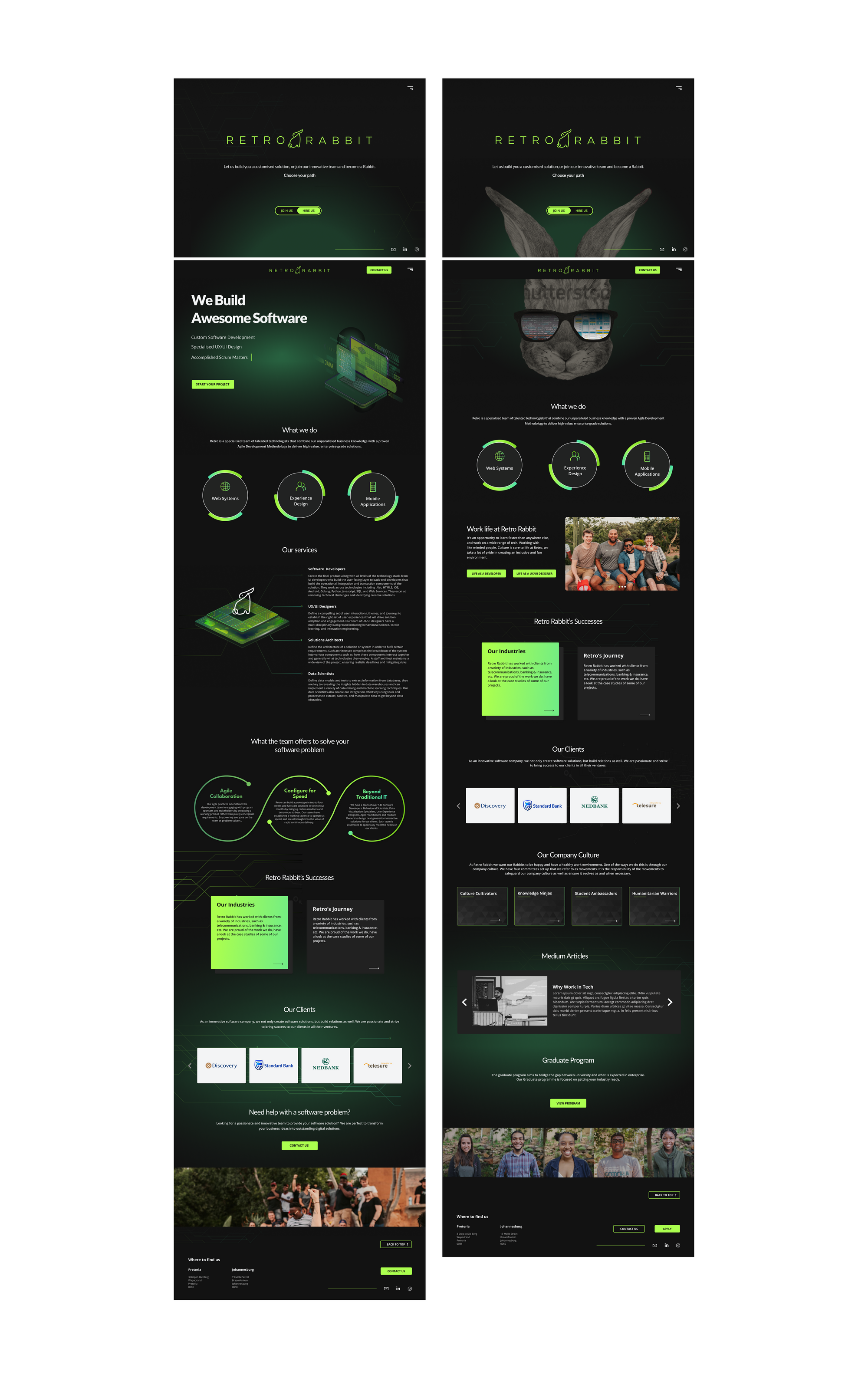 We took some time to look over our designs and the concept. It takes reflection to create innovation, and it was this reflection that sparked the idea for a blog-style website. This style of website is very new and has not yet been widely adopted. We wanted to bring in something new and different to our website that engages our visitors on a deeper level. The fundamental idea behind our blog-style site was to create a conversational experience. We wanted to communicate with our visitors on a more personal level as well as be able to share our experiences and knowledge.
And thus the current Retro Rabbit website was created.
The Age of Ghost
To create the conversational experience we envisioned, we chose Ghost.org to create, manage and share our knowledge with our visitors. Ghost's flexibility helped us to create a uniquely Retro Rabbit experience for our audience. The tools Ghost provides helped us develop direct relationships with our audience with content that is reader-friendly.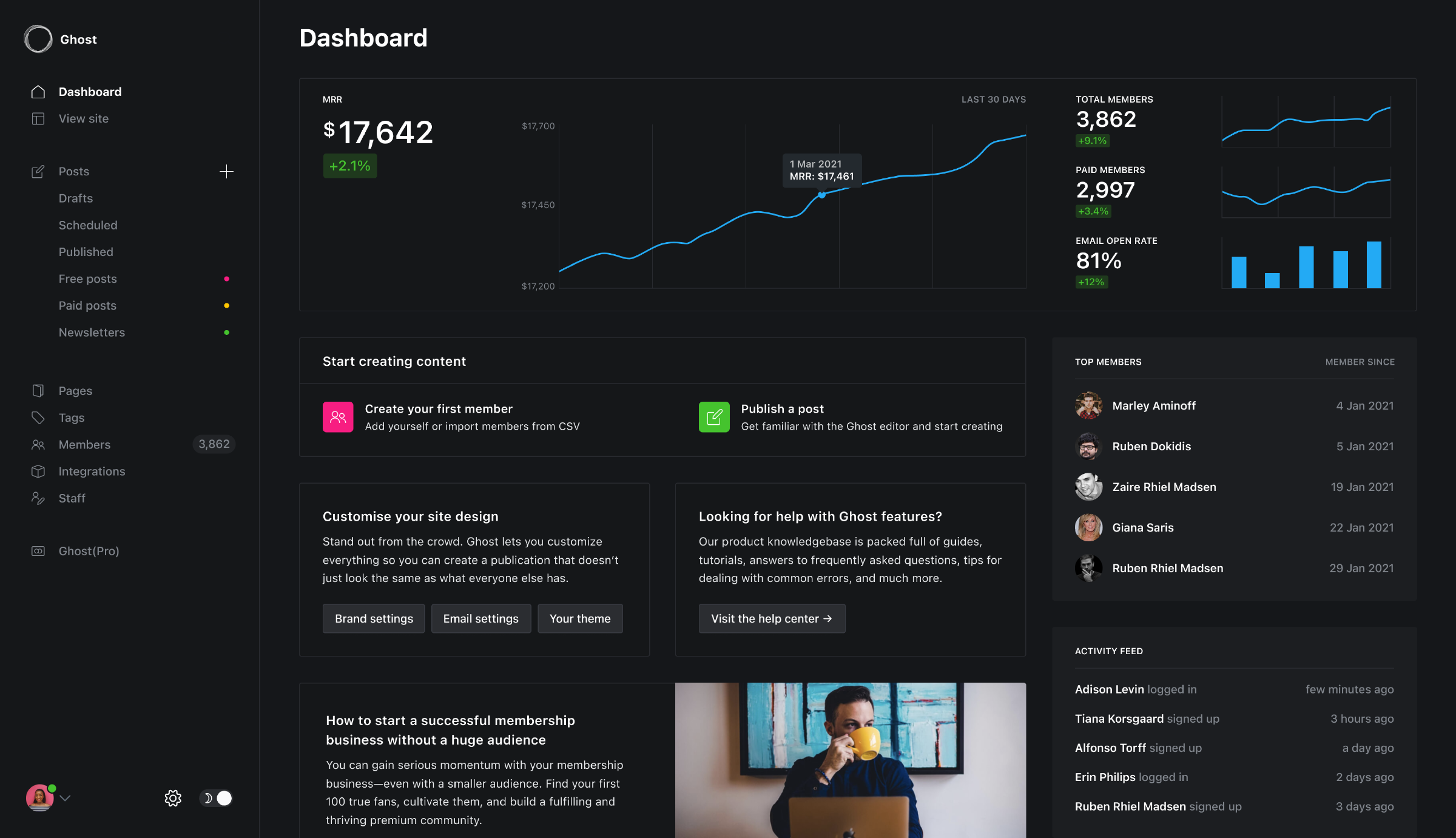 Welcome to our website, and please subscribe
Our new website is all about interacting with our fans. Join our subscribers and we will send you some inbox love. Want to leave a comment on one of our articles? Go right ahead! Looking to join our army of undead specialists? Send us your resume.
This website is for you; join the conversation.